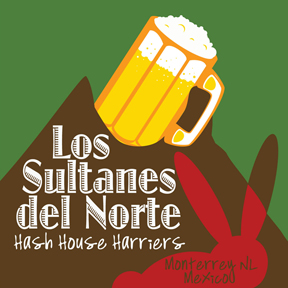 Los Sultanes del Norte Hash House Harriers (SDNH3) is an international social group which meets for unusual runs (though some barely walk) on pre-set trails in & around Monterrey, Mexico. Following the tradition started in 1938 by a group of British colonial officers & expatriates in Kuala Lumpur, Malaysia who gathered every week to run & rid themselves of the excesses of the previous weekend, the SDNH3 started hashing here in April of 2010.

We meet two weekends a month often alternating between Saturdays & Sundays so that everyone can get their "fix." Most of us are bi-lingual English/Spanish yet any & all nationalities, colors, genders & ages from 18-88 are welcome to join the fun & follow the flour marks...


Next trail
:
SDNH3 Hash #87-89 - CAMPOUT!!
When: Saturday, Aug. 24- Sunday Aug. 25 - rain or shine!
Where: TBD *** E-mail us your contact details for exact meeting location ***

Hares: Pubic Affairs, Pubic Defender, Stained Shorts, Just Arjan, Gay Gandalf

What to bring: $300 hash cash & all your cool fe/male friends. If they´re sporty they can join the hounds (runners) & if they´re not the wankers (walkers) will welcome them...
*** Send your name, cel. #, how you learned about the hash & questions to mtyhash@gmail.com; we'll reply with the exact location & advise you of any changes -- as soon as we can take a break from less important things... ***

Following trail: SDNH3 Hash #90

When: Sunday, September 7 @ 4:00pm (time might change) - rain or shine!

Where: TBD *** E-mail us your contact details for more info ***
Hares: MeLips & PP for America